We Love Our Volunteers Year-Round, but Especially During National Volunteer Week
Author: R. Michael Brown
Community Involvement
Published: Wednesday, 22 Apr 2020
---
Sharing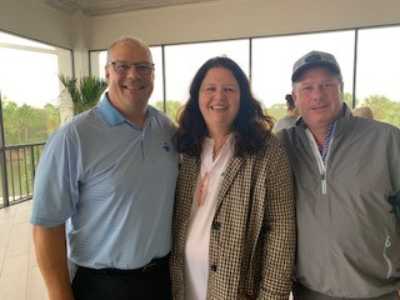 Image caption: Pete Bozetarnik, JA Board Member & Volunteer; Claudia Kirk Barto, JA President; and Mark Wade, Chair of the JA Golf Classic and JA Board Member
National Volunteer Week is here, and now more than ever we're seeing how people are devoting their time and resources to help those affected by the COVID-19 pandemic.
This year, National Volunteer Week is observed from April 19-25. "It is an opportunity to recognize and honor the countless individuals who selflessly invest in the lives of others," said Claudia Kirk Barto, President of Junior Achievement of the Palm Beaches & Treasure Coast. "We thank and appreciate our volunteers so much. Nothing brings a community out of a crisis stronger than those that are looking out for each other, and that's what the heart of a volunteer is."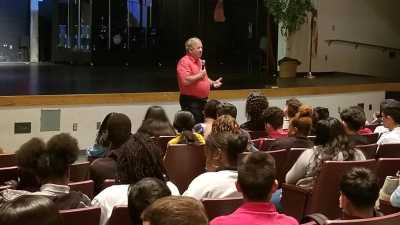 Image caption: Tim Gannon, Founder of Outback Steakhouse and JA Volunteer Speaker for Global Entrepreneurship Week
As National Volunteer Week continues around the country, Barto is encouraging folks to think about how they can strengthen their own community here locally.
"Nonprofit organizations do the critical work in the community. They are the ones that step up when things get really tough," explained Barto. "They cannot complete their mission without volunteers. Volunteers are critical to our community being resilient during times of crisis so to us volunteers are heroes."
Volunteers play a key role in bringing Junior Achievement to life. By sharing personal and professional experiences and skills with students from our community, volunteers help students make the connection between what they are learning in school and what they will need to succeed in work and life.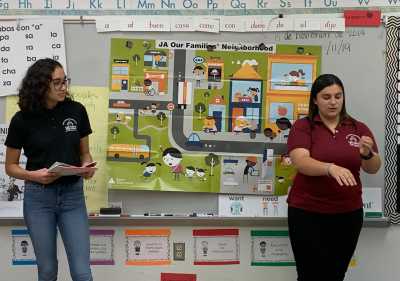 Image caption: Lake Worth High JA High School Heroes Teaching at Palm Springs Elementary School
If you don't feel comfortable leaving your home, there are plenty of virtual volunteer opportunities you can do right from your couch.
JA of the Palm Beaches & Treasure Coast has over 20 volunteers signed up to video record themselves for our JA Virtual Career Speaker Series and JA Job Shadow programs. We would like to have 50.
These volunteer-recorded programs help students doing schoolwork at home to understand the world of work and careers. We have tech marketers, hospital professionals, dieticians, yoga instructors, engineers, lawyers, law enforcement officers, environmentalists, animators, judges, voice over artists, and more...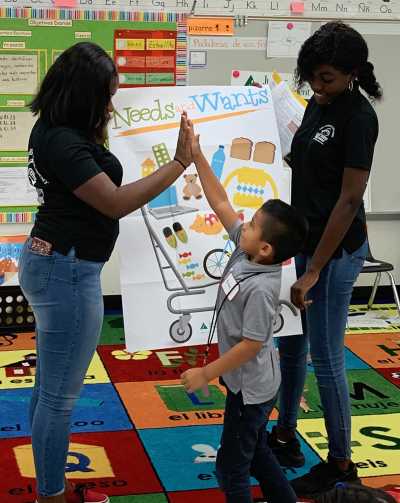 Image caption: Lake Worth High JA High School Heroes at Palm Springs Elementary School
Junior Achievement also has a program called JA High School Heroes where high school students go to lower grades and teach JA programs. Since most of our programs are now online, JA High School Heroes are starting to video record themselves teaching the class. Elementary school students log into their Google Classrooms and watch the high school student's video to learn about how to handle money, prepare for the workplace, and see how businesses, cities, and economies run.
Contact Katelyn Bates, JA Special Events and Volunteer Manager, to volunteer with Junior Achievement or find out more: KBates@JuniorAchievement.com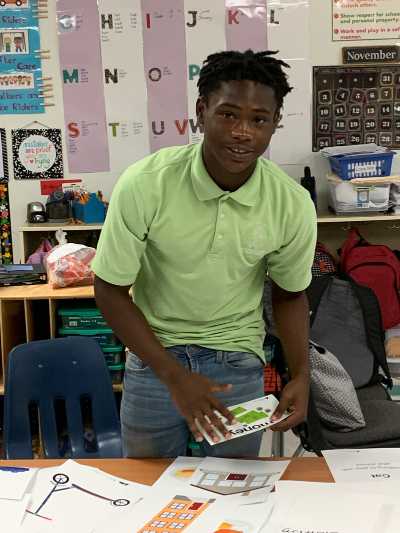 Image caption: Lake Worth High JA High School Hero Teaching at Palm Springs Elementary
Select a button below to see how you or your organization can get involved with Junior Achievement of the Palm Beaches & Treasure Coast,Inc..
Donate
Volunteer
Request A Program
We use cookies to provide you a personalized experience. How we do this is by analyzing user behavior on our site and sharing data with our advertising and analytics partners. You consent to our cookie policy if you continue to use this website.