Teen Goes Into Business Helping the Blind Feel Color
Author: R. Michael Brown
Entrepreneurship
Published: Wednesday, 24 Jun 2020
---
Sharing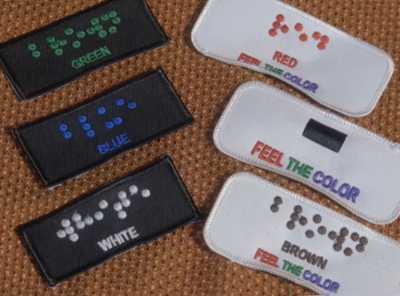 Image caption: Feel the Color clothing tags for the blind
What started out as a class project a couple of years ago has become a real business venture for a North Texan who was just 15 at the time. Jakayla Dixon of Haslet, Texas patented her design for a clothing tag and launched her business called "Feel the Color."
The venture started out as a Junior Achievement (JA) Company. that creates fabric tags embroidered with both braille and alphabet lettering. This enables a visually impaired individual to literally "feel the color" of their clothing garment.
The tags are designed to be like any other shirt or pants tag, but Braille markings and raised letters are sewn in so that the blind and visually impaired can have a better view of the clothes they're purchasing and putting on.
Jakayla, an Eaton High School student, enrolled in the school's Academy of Business Management and Entrepreneurship thinking it would just be a pathway for her studies; but, a simple class project that was part of a Junior Achievement program hit a personal note for her and changed the assignment into a passion.
The assignment was to create an innovative business idea. Jakayla said she immediately thought of her aunt, who lost her sight about 20 years ago after surgery.
"She sees shadows but what's a shadow when I see colors on a daily basis?" she said. "Through extensive research at Lighthouse for the Blind we learned that there are different levels of visual impaired. Some only know Braille, some only know alphabet lettering, so through this research we realized we wanted to include a wider range of tags."
Jakayla decided to use the project as a way to come up with something to help her aunt do a daily task a little easier: pick out an outfit. She developed the tags that, to her surprise, no one else had come up with yet.
"They have some similar but they're like hard plastic and aluminum," she said, "and who wants aluminum in their clothes?"
When she pitched the idea at a local conference, she found several people and investors interested in making it a reality. So now, Feel the Color is an actual business with investors and a manufacturer and is getting the tags into clothes in stores to help the blind everywhere.
Jakayla even has five employees comprised of fellow classmates who fill positions ranging from accounting to human resources.
Select a button below to see how you or your organization can get involved with Junior Achievement of the Palm Beaches & Treasure Coast, Inc..
Donate
Volunteer
Request A Program