JAPBTC gears up for Global Entrepreneurship Week 2023 to inspire Palm Beach County students
Author: Denise Sawyer
Entrepreneurship
Published: Tuesday, 31 Oct 2023
---
Sharing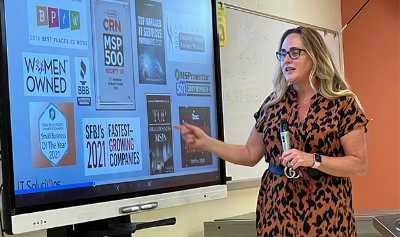 Image caption: Damiem Simmons seen speaking at Glades Central High School during GEW
Proudly supported by The UPS Store and Fifth Third Bank, JA Global Entrepreneurship Week 2023 is all set to captivate the young minds of Palm Beach County. This week-long extravaganza offers students from The School District of Palm Beach County the chance to embark on an entrepreneurial journey like no other.
With each day of the week devoted to a distinct topic, students will explore the multifaceted world of entrepreneurship:
Day 1 (November 13): Marketing: The week kicks off with a deep dive into marketing, where students will learn the art of promoting ideas and products effectively.
Day 2 (November 14): Culinary: For those with a passion for the culinary arts, this day is dedicated to unraveling the secrets of the culinary world.
Day 3 (November 15): Medical: Aspiring healthcare professionals will be inspired as they explore the world of medicine and healthcare.
Day 4 (November 16): Finance & General Business: Students will delve into the intricacies of finance and general business practices, equipping them with valuable knowledge.
Day 5 (November 17): Technology & Computer Science: The final day is reserved for tech enthusiasts as they venture into the limitless world of technology and computer science.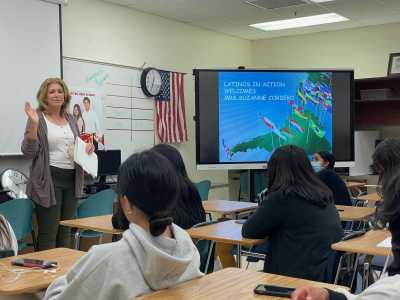 Image caption: Suzanne Cordero is pictured speaking at Jupiter High School
This array of topics ensures that students receive a comprehensive education in entrepreneurship and develop a diverse skill set.
Connecting with Local Business Leaders: A Glimpse into the Real World
One of the highlights of JA Global Entrepreneurship Week is the unique opportunity it provides for students to connect with local business leaders. Junior Achievement of the Palm Beaches & Treasure Coast has partnered with The School District of Palm Beach County to make these connections possible.
Throughout the week, students will have the privilege of listening to inspirational stories and real-world experiences from area business leaders. These accomplished professionals will share invaluable insights on how students can harness the skills they're acquiring to prepare for a prosperous future in the entrepreneurial landscape.
Each November, GEW recognizes and empowers millions of entrepreneurs in every country and community around the world, especially individuals who face barriers or who have never considered the idea of launching their own business. Junior Achievement of the Palm Beaches & Treasure Coast is honored to bring GEW to life for local students and provide them with the knowledge, experience, and connections they need to succeed.
Select a button below to see how you or your organization can get involved with Junior Achievement of the Palm Beaches & Treasure Coast, Inc..
Donate
Volunteer
Request A Program