JA Career Exploration Fair captivated Crosspointe Elementary students, more volunteer speakers needed for upcoming events
Sign up today to share your career journey with area students.
Author: Denise Sawyer
Work Readiness
Published: Wednesday, 15 Nov 2023
---
Sharing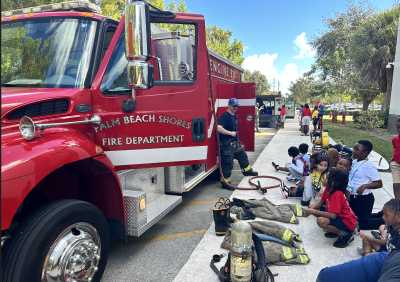 Image caption: The Palm Beach Shores Fire Department gives a demonstrative presentation to students.
(BOYNTON BEACH, Fla.)- Junior Achievement of the Palm Beaches & Treasure Coast (JAPBTC) collaborated with education professionals to organize a Career Exploration Fair at Crosspointe Elementary School in Boynton Beach, Fla.
Passionate career speakers like Erica Eggerman, Joseph "JB" Bensmihen, and representatives from The City of Boynton Beach Fire Rescue were among the guest speakers who dedicated their time to inspire and educate the students.
"These speakers generously shared their career journeys, shedding light on their diverse and exciting paths," said Erica Henn, Director of Elementary Programs at JAPBTC. "It's all about empowering our students with the knowledge of the endless possibilities awaiting them."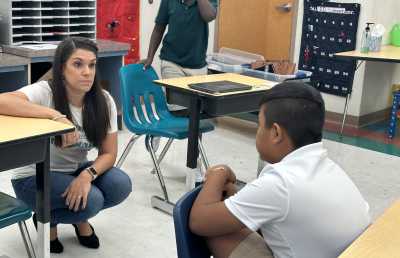 Image caption: Erica Eggerman is seen talking with a student.
These professionals brought their stories to life, highlighting the twists and turns, challenges, and triumphs of their respective careers. The students were not only informed about potential career paths but also encouraged to dream big and reach for the stars.
Sign Up to Speak about Your Career at Next Events:
Crystal Lakes Elementary Career Day

Date: Friday, December 1, 2023
Time: 8:00 AM - 10:00 AM
Location: 6050 Gateway Blvd, Boynton Beach, FL 33472

Greenacres Elementary Career Day

Date: Tuesday, December 5, 2023
Time: 8:00 AM - 10:00 AM
Location: 405 Jackson Ave, Greenacres, FL 33463
To confirm your participation, please sign up using the JA Career Days Signup Form link.
Thank you for considering this opportunity. Your involvement will undoubtedly make a significant difference in the lives of these students. For any questions or additional information, please don't hesitate to reach out.
Let's together shape a future where every student is equipped with the knowledge and inspiration to pursue their dreams and make a mark in the global economy.
Select a button below to see how you or your organization can get involved with Junior Achievement of the Palm Beaches & Treasure Coast, Inc..
Donate
Volunteer
Request A Program