Give a Better Gift, the Gift of Real Estate
Author: Katelyn Bates
Community Involvement
Published: Monday, 12 Jul 2021
---
Sharing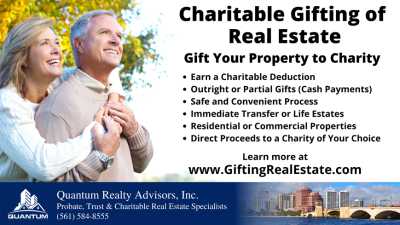 Image caption: Ways to give and perks of giving real estate to charity
With approximately $400 billion in annual donations to America's charities, civic and non-profit organizations, less than 2% of all these gifts are comprised of real estate. This is likely the case since most charitable organizations shy away from real property donations as they find it difficult to accept an asset of this type due to the liability associated with holding real estate as well as the on-going expenses including taxes, insurance, maintenance and utilities.
As specialists in the charitable gifting of real estate, the team at Quantum can assist non-profit organizations, donors and their advisors with all aspects of the transaction. In addition to coordinating the marketing and sale process, our team has specific strategies that can assist the non-profit with the acceptance of real property gifts while attempting to maximize the benefit to the donor.
Upon completion of the property sale, the donor can direct how the cash proceeds will be distributed (full or partial donation to one or more charitable organizations and / or distribution to specific heirs & beneficiaries).
All gifts must have a minimum amount of equity (varies by donation, value and location) be readily marketable and be able to be legally conveyed in a manner appropriate with the customs of the specific jurisdiction of the property. Properties with mortgage debt, environmental issues or other encumbrances will also be considered for gifting. Donor who wish to have a partial cash payment for any reason, including to tailor the size of the gift portion of the contribution, can negotiate a "Bargain Sale" (part cash / part gift).
For Individuals and Families
Why Donate Your Property?
Get a tax deduction for the fair market value of your property & avoid capital gains taxes
Convenience of sale / no hassle transaction
Provide for a charity of your choice
Estate planning purposes
Receive a cash payment
Types of Real Estate Gifts
Outright property gifts
Partial interest donation (Bargain Sale)
Gifting with the payoff of mortgage loans or other liens & encumbrances
Life estates
Conservation, historic and preservation purposes
Donate Throughout the U.S.
Acceptable Properties Include
Single-family homes
Condominiums and townhomes
Vacation homes
Rental properties
Multi-family properties
Commercial & Industrial properties
Investment real estate
Farms and ranches
Vacant land and acreage
Frequently Asked Questions
My property has doubled in value within the past 5 years? Can I donate just the appreciated value?
Yes, you can donate just the appreciated value of the property (or even a portion thereof) as long as there is a minimum amount of equity. In most cases, one of our partner charities will provide the donor payment for the initial cost of the property, assuming ownership as well as the responsibility for marketing & sale.
Can I direct which charities received the proceeds from the sale of my property?
Absolutely. Quantum and our non-profit partners will work with the donor of the property to direct the majority of proceeds to one ore more charitable organizations of their choice.
Am I able to donate my vacation or investment property with an outstanding mortgage?
Our firms non-profit partners can accept donations of property with an outstanding mortgage as long as there is a minimum amount of equity. Prior to sale of the property, our non-profit partners will advance payment for the outstanding mortgage balance on behalf of the donor.
Can I donate an investment property with existing tenants?
In most cases our non-profit partners can accept property donations with existing tenants. Typically least terms will need to be at or near those currently offered in the market and the property will need to have a minimum amount of equity.
Would properties with title or environmental issues be considered for donation?
Depending on the extent of the title or environmental issues, it is very possible that our non-profit partners would consider accepting these property donations. These cases will require a level of due diligence that would exceed that of a traditional property donation.
Select a button below to see how you or your organization can get involved with Junior Achievement of the Palm Beaches & Treasure Coast.
Donate
Volunteer
Request A Program
We use cookies to provide you a personalized experience. How we do this is by analyzing user behavior on our site and sharing data with our advertising and analytics partners. You consent to our cookie policy if you continue to use this website.