Fiji Water Founder & Outback Steakhouse Founder + More Speak at Global Entrepreneurship Week in Palm Beach Schools
Global Entrepreneurship Week a Great Junior Achievement Success
Author: R. Michael Brown
Entrepreneurship
Published: Wednesday, 20 Nov 2019
---
Sharing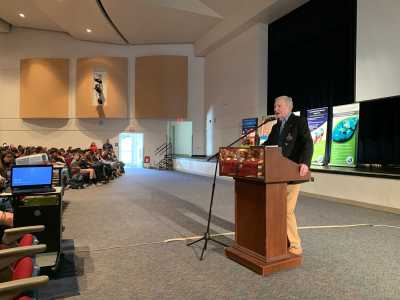 Image caption: David Gilmour, founder of Fiji Water, gives students advice about school, life, and business.
Palm Beach County, Fla. – The community came together for Global Entrepreneurship Week (GEW) and Junior Achievement of the Palm Beaches & Treasure Coast provided entrepreneur speakers for area high schools.
The business leaders spoke to hundreds of students at each school about their life, passions, and what made them successful. A common theme among all the entrepreneurs was that you must develop focus, eliminating distractions, and you must seek to forge relationships so you can build a team that fills the gaps in your strengths. No one can do it alone, they said.
Successful entrepreneurs, they all agreed, must decide on something they love to do, that they are passionate about. Without that daily passion, to help them through the long term, they won't be successful.
"I started out selling pots and pans door-to-door," said David Gilmour, founder of Fiji Water. After getting turned away nine out of ten times, he changed his sales approach. "I offered to cook dinner in the new cookware for the prospective customer. It worked and I became the top salesman in a year." That type of creativity and imagination was a key aspect of Gilmour's success in his 16 ventures.
"I was sleeping through high school in Ft. Lauderdale as a C minus student," said Tim Gannon, founder of Outback Steakhouse. "I started working part-time and quickly realized I could work with my back for minimum wage or work with my brain and earn a lot more." He started focusing on school. After graduating from Florida State University he worked in restaurants, became an authority on flavors, and in New Orleans he developed the blooming onion. He started the first Outback in Tampa. Now the restaurants he founded with his partners have more than 100,000 employees in 1,450 establishments around the world.
Damion Simmons spoke at John I. Leonard. Simmons started Atlantis Pharmacy and he was the first to offer home delivery of prescriptions.
Gail Asarch is a partner in Meyer Jabara Hotels which owns and manages 26 hotels in the United States under the marque brand names of Marriott, Hilton, Residence Inn, and more. She also owned and operated 40 Denny's restaurants and Hurricane Grill & Wings. Asarch told JA that she felt like she got more out of the interaction with students than they got.
"The stories we produce come in all shapes and sizes including 15-second TV commercials, or 60-second Instagram videos, to 3-hour movies," said Todd Kolich, president of Ko-Mar Productions. "Time is on your side when you are young. Experiment and try things - go to Hollywood for 3 years when you're 21. Try, and fail if you have to. It's the best way to learn."
"Going full-time as an entrepreneur is a damn scary thing," said Joe Russo, president of the Palm Beach Tech Association. "You invest every cent and second you have for your passion, with nothing more than a leap of faith behind you."
The excitement from the students with questions and some even asking for employment was gratifying to the speakers.
"Our speakers make this an awesome week," said Claudia Kirk Barto, president of Junior Achievement of the Palm Beaches & Treasure Coast. "Students learn so much in an hour of interaction with these fantastic entrepreneurs."
Global Entrepreneurship Week is an initiative fronted by the Global Entrepreneurship Network (GEN), which operates in more than 170 countries as an organization dedicated to fostering more business creation and economic growth. GEW is also powered by the Kauffman Foundation, an organization dedicated to facilitating entrepreneurship and education.
The burden of organization is placed on local regions, so it's easiest to understand what GEW is all about through the lens of specific communities. This was the sixth year in a row that Palm Beach observed Entrepreneurship Week, and more than a dozen separate entrepreneurial support organizations came together to host events throughout the week.
Multiple for-profit companies and nonprofit organizations collaborated to make these events more accessible and more valuable. There's Junior Achievement of the Palm Beaches & Treasure Coast, an organization dedicated to encouraging achievement and education in work readiness in kids K to 12. There's Palm Beach Tech Association, a non-profit focusing on building the Palm Beaches into a tech hub and FAU Tech Runway, a South Florida public-private partnership that functions as a tech startup accelerator and incubator. There's also Venture X, the Flamingo House, and 1909, various co-working spaces all lending out their facilities for some or all of the week's events.
Junior Achievement's Global Entrepreneurship Week was generously sponsored by Fifth Third Bank.
To learn more about Junior Achievement programs, please visit www.juniorachievement.com or call
(561) 242-9468.
Select a button below to see how you or your organization can get involved with Junior Achievement of the Palm Beaches & Treasure Coast,Inc..
Donate
Volunteer
Request A Program
We use cookies to provide you a personalized experience. How we do this is by analyzing user behavior on our site and sharing data with our advertising and analytics partners. You consent to our cookie policy if you continue to use this website.